A SINGLE DOSE OF PSILOCYBIN RELIEVES DEPRESSION AND ANXIETY FOR 6 MONTHS, ACCORDING TO NEW STUDY
Uncategorized
November 15, 2017,
0 Comment
AN INVESTIGATION THAT COULD CHANGE THE TREATMENT OF DEPRESSION AND ANXIETY SHOWED THAT A DOSE OF PSILOCYBIN RELIEVED CANCER PATIENTS FROM THEIR DEPRESSION AND / OR ANXIETY
Psilocybin, the active substance of the "magic mushrooms", is currently presented as a valuable medicine, capable of helping in the treatment of different conditions, including various addictions and psychological ailments. A study a couple of years ago showed that psilocybin has an effectiveness of 80% as a treatment to stop smoking, 50% more than any other method known until that date.
The main field of study of psilocybin in recent times is with terminal patients. In this, Johns Hopkins University is the pioneer and recently has unveiled new research that could be historical.
The results of the study, in which 79 cancer patients participated, are about to be published in the Journal of Pyschopharmacology and constitute the strongest evidence that a single dose of psilocybin can alleviate depression and anxiety for at least 6 months in patients with said condition.
In the investigation, patients received a minimum dose for control and a high dose. The results showed that 6 months later 78% of the patients were less depressed than they had been according to a clinical evaluation and 83% less anxious. 65% had recovered almost completely from depression and 57% from anxiety. By comparison, antidepressants have only helped 40% of patients with cancer, a figure similar to placebo. After 6 months 2/3 of the group believed that this experience had been among the five most significant of his life. They attributed the benefits to having found meaning in life.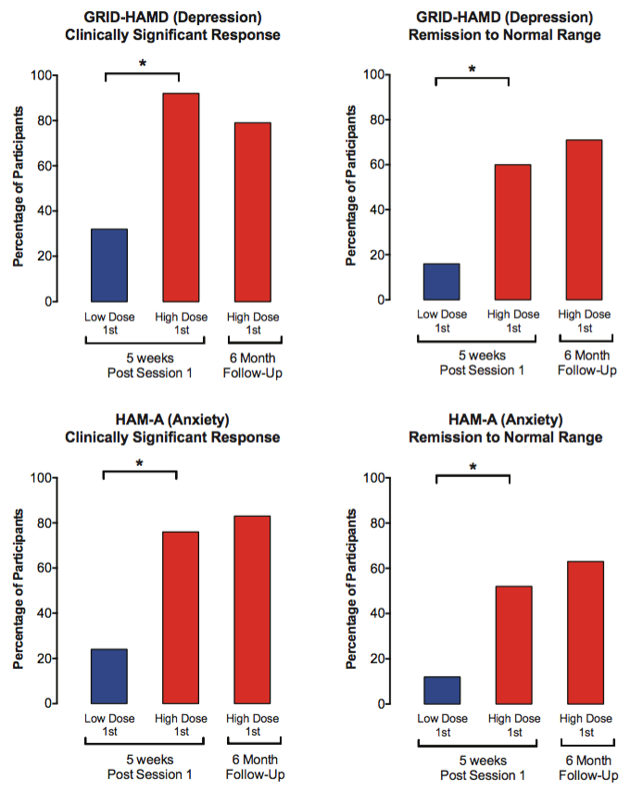 Scientists still do not know well how psilocybin produces these changes in the brain, there lies the "magic" of fungi and may not have a neural mechanism properly but is a benefit in a change of attitude and meaning, an operation of mind about matter.
Obviously it will be necessary to replicate these studies with patients who do not have cancer, but although the level of effectiveness could decrease, it is highly probable that psilocybin will in any way outweigh antidepressants, which is a huge threat for pharmacists, since This substance provides benefits with a single dose.
Jeffrey Lieberman and Daniel Shalev hit the nail on the head when they point out: "Current laws, not based on evidence, impede research with difficult storage and security requirements, which makes it very difficult to obtain funds."
It is relevant to remember what Giorgio Samorini said: "the phenomenon of drugs is a natural phenomenon, while the problem of drugs is a cultural problem".