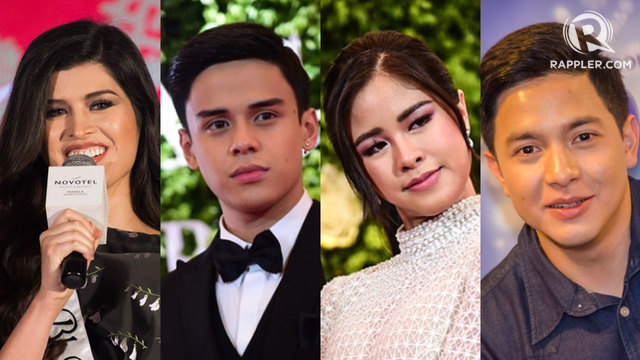 MANILA, Philippines (UPDATED) – Stars took to social media to speak up on the issue of depression and mental health following the statement by TV host Joey de Leon on Eat Bulaga, which was criticized by netizens.
TV host Ryan Agoncillo, who was part of the panel during the Juan For All, All for Juan posted a long message on Instagram.
"I hope all is well with you and your family. Like you, I'm all too aware of how real depression is. Having had to deal with it for a long time now, having lost friends, heroes and even myself to its depths, i know when it rears it's ugly head, signs aren't instant but more like quicksand. I know it cuts across the board, it knows no age, gender, religion, civil or economic status. What unfolded yesterday was a very painful and familiar exchange. I've heard it at the dinner table, in the car on the way to school and at the office cafeteria, everywhere. the ferocity with which the reaction was released was what made me pay close attention though. Instead of the TV instincts kicking in for a quick draw reaction, I knew I had to remain quiet and not add to the noise. because it is this very noise that pushes the quiet ones further into a corner. It is good we have this avenue for expression, let's continue to do so. it is healthier, Thank you for this. Mahigpit na yakap para sa iyo at sa mga tahimik. (A tight embrace for you and for the silent ones.)
Actor Khalil Ramos took to Twitter to say that depression is not an issue to be taken lightly.
"Depression is no joke. Depression is real. Awareness is what we need to end potentially dangerous remarks and comments about it."
Binibining Pilipinas International 2017 Mariel de Leon also spoke out about the issue, calling out Joey de Leon for his insensitivity.
"Depression isn't a joke. Same last name, but thank God we're not related. Ew. Shame on him and people who think like him."
Depression isn't a joke. Same last name, but thank God we're not related. Ew.
Shame on him and people who think like him.
— Mariel de Leo (@mariaangelicadl) October 5, 2017
She added: "Close to 800k people die every year due to suicide. If you aren't angry about what he said, what kind of human are you? Where is your heart?"
Close to 800k people die every year due to suicide. If you aren't angry about what he said, what kind of human are you? Where is your heart?
— Mariel de Leon (@mariaangelicadl) October 6, 2017
Alden Richards, meanwhile, shared about his mother's struggle with bipolar disorder.
"My mom suffered from bipolar depression all her life when she had us. I know every single detail of it and how hard she suffered from it."
Pinoy Big Brother teen runner-up, Kisses Delavin, also came to the defense of those going through depression and mental health issues.
"Sad to think that depression is being considered a joke. It's unfair. It's just not right. Let's do ourselves a favor, be a little kinder and understand that we dont know what a person goes thru unless we walk a mile in their shoes. Some people dont have it as easy as it seems some people struggle with their baggages unlike others. It doesn't mean they're weak. And it doesn't make them any lesser than the rest."
She added: "Some depressed people even have more compassion in them, they don't judge other people, because they know how hard the others feel."
TV writer and book author Noreen Capili also shared her thoughts about mental health.
"Dear Joey de Leon, your words have power. Please use it wisely. Use your power to educate. Depression is real, hindi gawa-gawa lang (it's not just made up)!
Actress Jodi Sta Maria tweeted: "Just because you haven't experienced it doesn't mean it is not real. Never ever mock a pain you haven't endured."
Actress Iza Calzado posted on her Facebook account about her late mother's struggle with the condition.
"Mental health issues and depression should not be taken lightly or made fun of. Just because it is not your reality does not mean it is not real for others.
"I grew up with this very painful reality having to watch my mother deal with her manic depression or whatever term they labeled her with at that time and I tell you that it is no joke. It is tough, not only for those going through it, but also for the people around them.
"Let us love and respect each other. Please."
Miss International 2016 Kylie Verzosa, who is an advocate in raising awareness about depression took to Instagram to express her thoughts about the issue.
"This is exactly the reason why I advocate about awareness of mental health MOST ESPECIALLY on Depression. Depression is a real sickness. It is the number one cause of suicide if left untreated. Not only has the rate of suicide been increasing but the age range has been getting younger. (15-29) I'm sure you've heard your local stories. Many people suffer in silence, because of the stigma attached and people still ignorant towards it. It is nothing to be ashamed about. Let's talk is a campaign allowing others to speak up about their sickness, acknowledgement is the first step towards healing. And by listening, you just may be able to save a life. Also, proud survivor over here."
Defending their dad
Joey's 3 children – Jio, Jako, and Jocas also spoke up defending their dad from the issue.
"Take difficult moments to open a discussion and to educate and to talk, instead of throwing hate and bashing and cursing," Jio tweeted.
Jako wrote: "It's not how we make mistakes but how we correct them that defines us."
His youngest, Jocas, said: "We accomplish more together by learning from and kindly educating one another rather than insulting and aggressively offending one another."
She also wrote on Instagram about how their family discussed what happened: "The important thing, however, is to respect one another and to try to cultivate a positive understanding of one another which would hopefully lead to a productive discussion of the issues at hand. So last night this is what we did – we discussed yesterday's events as a family… in an atmosphere of love, respect, understanding, acceptance. We all know that even within a single family unit, different opinions abound. But in the face of these differences, we hear each other more loudly and see each other more clearly if each one of us comes from a place of kindness, gentle tolerance and sincerity. I wish everyone well (actually dunno about those with nothing but hateful talk). I especially wish well those who have openly expressed their own personal struggles with depression. I hear you. I see you. I understand you."
On Friday, October 6, the TV host issued an apology on television, saying that he made a mistake.
"Kung may madudulot ng mabuti yung aking pagkakamali, eh sana'y mabuksan ito ang maraming pinto sa pagtalakay sa isyu na ito. At yung tungkol sa depression hindi ko alam na ganun kalawak at kalalim pala iyon. Akala ko stress lang iyan, ganyan… Muli, humihingi ako ng kapatawaran sa mga nasaktan, nagalit. I'm sorry at may kasabihan naman tayo na mapait man ang ugat ng karunungan, o edukasyon, eh karaniwan naman ay matamis ang binubunga nito."
(If there's one good thing that came out of this, is this would open the gate to discuss this issue more. And about depression, I was not aware that it was that wide and deep. I just thought it was stress and all, again, I ask for your forgiveness, to those who got hurt and angry. I'm sorry and as the saying goes if the root is bitter or knowledge or education is bitter, the fruit is of it is sweet.) –